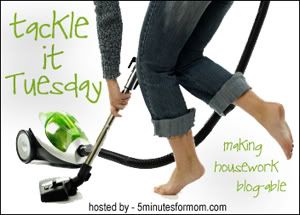 (Note: If you haven't entered my giveaway for FREE laundry detergent yet, click
here
...you've only got until Wednesday.
)
As I have mentioned several times over the last month, I have been dreading decorating the Christmas tree because of a certain kitten that has graced our home.
When Minnie was a baby two years ago, she got stuck in the tree about a half hour before we had to leave for Christmas Eve church, had to be CUT OUT, peed all over the floor, and the tree went into the garbage before Christmas morning.
Wonderful memory, huh?
I was determined to not have a repeat performance.
So I decided to try a spray that I read about online. This one was
Boundary Cat Repellent
.
(FYI... this was not a review product and I received nothing to write this...I just discovered what works)
I was curious to see the difference so first I brought the Christmas tree upstairs and left it in the box in the middle of the living room floor. Within a minute, this is what I found...
One cat IN the box, the other observing as if deciding whether to join the adventure.
What would happen if I sprayed the tree before I took it out of the box?
Both cats ran away and hid on the other side of the room to observe at a safe distance.
So I figured it was safe to go ahead and put it up.
Putting lights on the Christmas tree is OFFICIALLY the worst job in an entire year that one needs to battle. Steve and I would get in shouting matches every year while we did it.
I decided this year to try to put them on a little at a time, one branch at a time. It worked very well, until...
Oops, Big Sister has ventured to try a nibble...
Grab the spray...cats gone!
I had two of the three sections up with lights by the time we had to go get Noah from school so the tree was missing it's top for the rest of the evening.
After the kids went to bed, I put the top on and finished "
poofing
"
Aaron woke up in the morning and exclaimed
"WHOA...IT

GROWED

!!!!!!"
So, finally it was time to allow the boys to start decorating. In years past, I would have followed behind, directing then where to put the ornaments.
I am proud to say that I resisted the urge.
Because I was so restrained, this is how the tree looked when they were done...
So as they started playing with the nativities (see next week's T13), I rearranged the ornaments, putting their cheesy character ones further to the back and our nicer ones in the front. I also added some bows to bring more color.
We used to have BEAUTIFUL colored glass and really nice ornaments. Then two little boys graced our home, followed by two cats, and I have opted for safety over beauty. Maybe in a few years, we'll get out the pretty balls again.
I also used to have a really pretty tree skirt, but I read an idea in a magazine last week that I am going to try, even though it looks a little silly at the moment.
I got a simple red tree skirt and the boys each put a hand print on it. Then, I outline it with glitter glue and label it.
Every year we will add their hand print. I imagine my the time they are older, it will be fun to look at all of the hands through the years.
This picture was taken before we got Aaron's print on the skirt.
So it needs a few more ornaments and it's not exactly the prettiest tree, but while were watching a movie Friday night as a family, I turned and saw Aaron just gazing at the tree with this sweetest dreamy look
I LOVE, LOVE, LOVE this picture. If I could bottle

that

look

of contentment an

d sell

it, I would be a

millionaire

.
and I decided that I now understand haw Charlie Brown felt.
(P.S. If you're wondering how the spray is working, each time the cats start trying to get near, I spray the bottom and the cats stay away for hours. I think it was WELL worth the $12.99 I paid.)